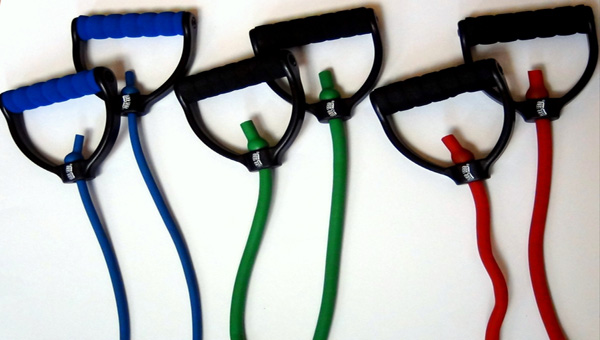 The latex resistance exercise band set comes with 5 different colored bands, each with its own resistance level. The bands are padded and very comfortable on the hands. The handles are connected to the band with a cloth material that can rub on the sides of your hands at times. They are permanently attached to the rubber bands, so it makes it quicker to switch bands.
Some other band sets have single plastic handles, and require you to attach and detach the different bands. That can take longer and be a little more annoying when switching weights.
This 5 piece set also comes with a handy door attachment that allows you to connect the bands to the door so you have wider variety of angles that you can push or pull from.
The quality and sturdiness of the bands are very good. I definitely think they come at a great price, and the shipment is extremely fast. I would highly recommend these bands for any home gym, low intensity workouts, or rehab.