In general, the quality of food these days is not completely impressive. Most of the companies producing the foods are more concerned about making a cheaper product that you will buy, than your health. This creates the issue of additives being placed into foods. Additives are fed to chickens to make them grow faster and bigger. They are placed into foods, replacing the natural fats and sugars. All of this takes place to make the product cheaper to produce. It comes at the expense of your health, only if you let it. I want you to be aware of the food that you're eating so I want to share the top 10 food additives to stay away from.
First, you need to be familiar with how to read what is in your food. Somewhere on the packaging of every food (even water) there is a "Nutrition Facts" label. It will tell you how much fat, protein, carbohydrates, fiber, sodium, and vitamins are in your food choice.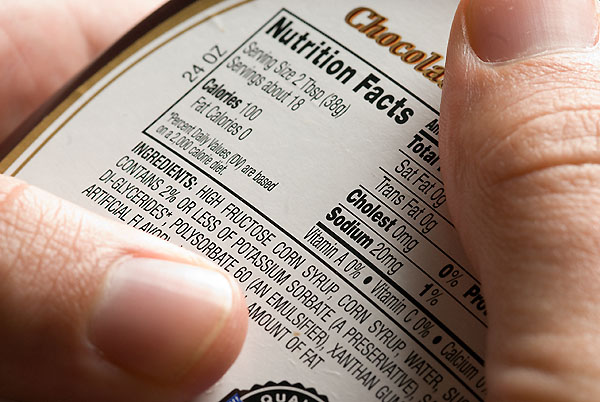 Next to the "Nutrition Facts" you will find the ingredients. It's simply a list of what is in the food. The first ingredient in the list is the most abundant and it goes in order, the last one being the least abundant.
Every time you go grocery shopping take the time to look at both labels and see what is actually in your food. Organic and natural foods have a short ingredient list because there is no extras added to them. The first sign of a food with unhealthy additives is a super long ingredient list with a bunch of words that you can't even pronounce.
Lets take a look at 10 ingredients to look for in that list. Avoid them if it's possible. Sometimes you don't have a choice, but you can at least choose foods with the least amount.
1 – MSG
This can be found in many frozen foods, canned soups, canned meats, pepperoni, chinese food, etc. It is an amino acid that is used to flavor foods. This excitotoxin makes cells overexcited to the point of serious damage. It is correlated with obesity because it deregulates the brains signals that tell you that you're full.
2 – High Fructose Corn Syrup
It replaces natural sugar in flavored foods like yogurt, bread, cereal, candy, condiments, etc. The substance comes from corn and is highly refined. It replaces the more natural stuff because it's so cheap. It has become the leading source of calories for Americans because it is in so many foods.
This substance is one of the biggest culprits in gaining weight, increased LDL cholesterol, and the diabetes epidemic.
3 – Aspartame
Artificial sweeteners like this can be found in anything that is labeled "sugar free", "zero calorie", or "diet". It is known as a carcinogen (promotes cancer) that can also have negative effects on brain function. It has reportedly been linked to numerous brain diseases like Parkinson's and Alzheimer's.
4 – Sodium Nitrate & Sodium Nitrite
These are both mostly used to preserve low quality meats and make them an artificial color. The nice red color that you find in hot dogs, some lunch meats, corned beef, and other processed stuff, is probably from this substance. Your heart and liver will have to work extra hard if you eat too much of it.
5 – Olestra
Found commonly in potato chips, it replaces natural fats. Your body can't completely break it own, so it wreaks havoc as it makes its way through the digestive system. It can cause diarrhea, gastrointestinal distress, cramps, bloating, etc.
6 – Food Dyes
The yellow, red, and blue food dyes can be found in sodas, candy, cheese, meats, ice cream, cereal, etc. They have been linked to chromosome damage, thyroid issues, and other carcinogenic qualities.
7 – Potassium Bromate
This filler is commonly used to increase the volume of white breads, rolls, and flour. Some studies have linked it to cancer in animals, so it's probably not a good idea for humans to ingest it until the actual side affects are clear.
8 – Trans Fats
This is one of the more regulated substances on the list. It still exists in many fatty foods keeping them on the shelf longer. It's one of the worst things that you can put into your body. Raising the LDL cholesterol and lowering the HDL cholesterol, it will do nothing for you except cause heart disease.
9 – Palm Oil
This hydrogenated oil is not natural. It contains trans fat which we already know is bad for us. Always use natural oils in cooking and make sure other foods that you eat use them too.
10 – Phosphoric Acid
You can find this substance in sodas. It increases the bubble effect. Wonder why coke can take the rust off of metals? This is one of the main reasons. If it can remove rust I wouldn't want it in my body that's for sure. That's not the only thing it's good at removing. It can break down your tooth enamel and lower bone density.
Always be aware of what is in your food. Food producers care about making cheaper stuff so that they can make more money. Your health is the last thing on their minds. These days it's up to you to protect yourself. Remember to investigate the "Nutrition Facts" and ingredients list. Now that you know these top 10 food additives, you know what to stay away from. If you found this article informative, please share it on facebook. You may also be interested in finding out 5 Ways To Eat Vegetarian And Still Gain Muscle.